If you're like me, you're no stranger to a ready-made packet soup (because let's face it, we all have lazy days), but you still want to nourish your body with the right ingredients to get (and keep) your oh so natural glow! It's all well and good keeping superfoods in the dietary mix, but sometimes a heart-warming bowl of soupy yumminess is all you want at the end of a long day and you'll be happy to hear you can still get a generous dose of a pretty important antioxidant from something as humble as a tomato.
Aside from contributing to the fiery red exterior of one of your pantry's squishiest members, lycopene is a powerful carotenoid antioxidant responsible for defending your body against those pesky free radicals your body produces to keep you alive.
Found abundantly in tomatoes, lycopene has been associated to help defend against prostate and breast cancer, diabetes, Alzheimer's and heart disease! Not to mention its protective properties against the aging powerhouse – the sun!
Several studies have shown that consuming 16mg of lycopene (around 4-5 tomatoes), helped reduce the skin's sensitivity to UV exposure by reducing skin redness.
By no means are tomatoes a replacement for sunscreen (sunscreen will forever be a keeper!), however consuming lycopene in tandem with regular sunscreen applications will doubly protect your collagen and keep your skin firm and juicy – like a tomato (I mean you are what you eat right?).

The riper the tomato, the greater the lycopene content so the squishier the better! You'll also be glad to hear that cooking tomatoes - usually into a paste, will increase lycopene bioavailability (because as much I love anti-aging foods, I can't stand raw tomatoes – anyone else?). And to get even more out of your tomatoes, pair them with healthy fats to increase their absorption through your intestines (our recipe below includes exactly that – obviously!).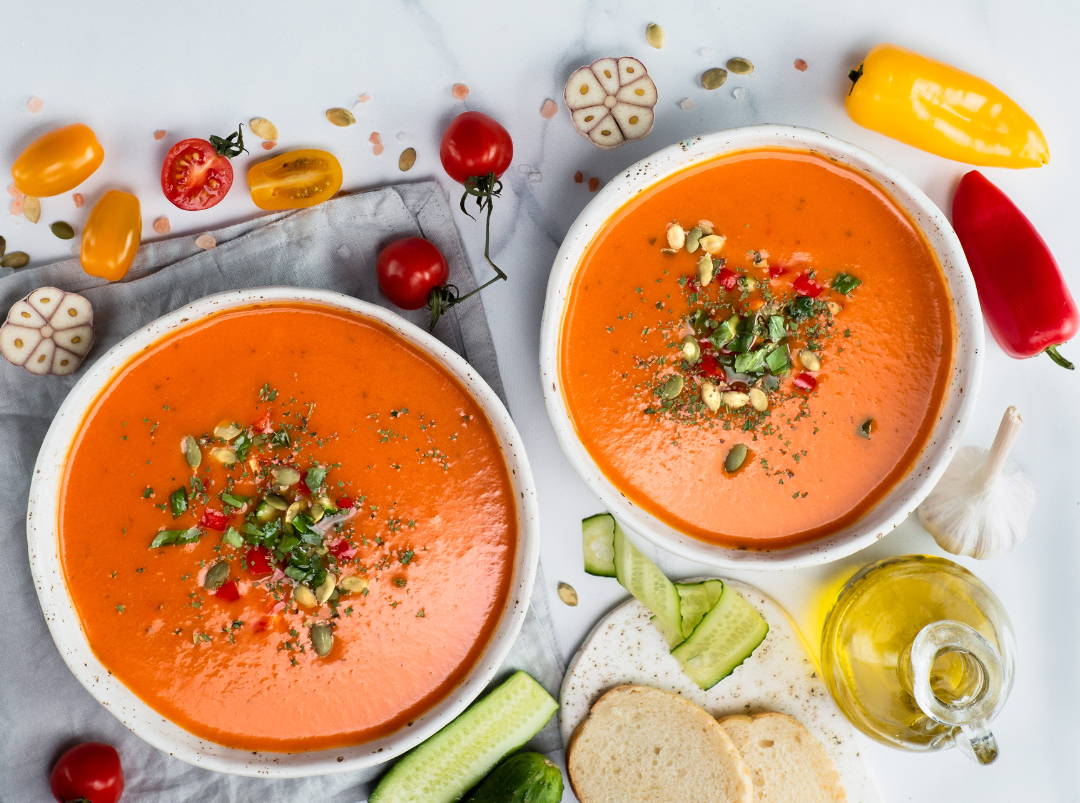 Only 30 minutes stand between you and this soup, let's get cracking!
Ingredients
2 400g cans of whole peeled tomatoes

1 tbsp coconut oil
1 cup vegetable stock
1/3 cup cashew or oat cream (optional)
2 small onions (chopped)
4 cloves of garlic (minced)
1/2 tsp ginger (minced)
1 tsp dried basil
1 tsp dried oregano
1/2 tsp paprika
Sea salt and black pepper to taste
Fresh basil (to make it look extra fancy while serving)
Method
Heat the coconut oil in a large pot on medium heat

Add the ginger, onion and garlic into a pot and sauté to soften the onions. Then add in the oregano, cumin and basil and paprika and continue to sauté until the onions have become transparent.
Add in the canned tomatoes and vegetable stock and bring to the boil. Then let it simmer for about 15 minutes.
Use a handheld (immersion) blender to blend the pot contents until smooth. Alternatively, let it cool slightly and transfer the soup into a blender jug, pulse and then return to the pot
Add cashew cream, salt and pepper to taste
Transfer into a bowl and serve with basil leaves
A little something on the side
Although a complete winner as a solo act, this soup can be paired with a number of worthy additions: I'd recommend toasted gluten free bread, socca (a protein rich chickpea flour flatbread), or a simple green salad!
It's that simple: a healthy, antioxidant rich, anti-aging creamy soup that's vegan (we love animals here!) – you'll forget packet soups even existed! Share your recreations of this dietary staple on our socials with us @rawbeautylab