Chocolate, brownies, healthy, anti-aging... something doesn't sound quite right, does it? When you hear brownies, it's usually the fudgy decadent squares of chocolaty goodness you think off, and the sugar rush (and crash), dull skin and breakouts that follow! But what if I told you, you could enjoy a plateful of brownies completely guilt free? Have I got your attention yet?
Cacao (the unrefined, richer version of the cocoa we all know) is actually one of the richest sources of free radical fighting flavonoid antioxidants such as catechin (can I get a hallelujah!). Add to that the anthocyanin content of black beans that are also loaded with fibre and you've essentially got yourself an anti-aging, deliciously decadent treat that you and your skin will love (who knew it was possible?).
And don't be afraid to start (some of – everything in moderation please) your mornings with these brownies - the caffeine content in the cacao can help replace your coffee without surrendering your morning pick me up!
Can't wait to try them, find the recipe below!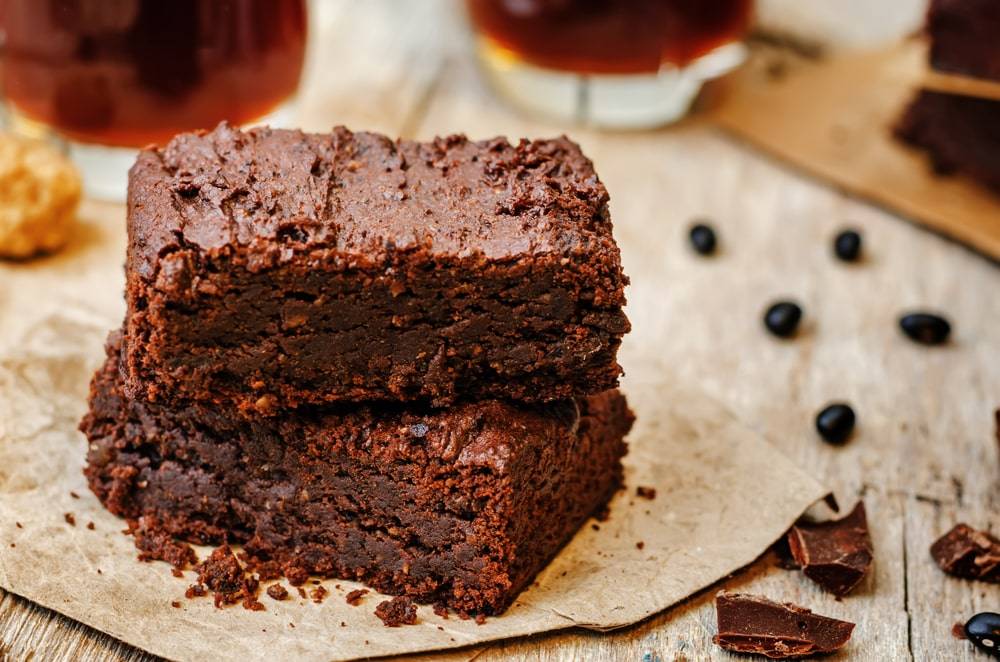 Ingredients
1 can (~ 450g) of black beans (rinse thoroughly and drain – 250g drained)
1/2 cup of coconut sugar (you can use normal cane sugar if you wish)
1/3 cup instant cook oats (or get a 1/3 cup of rolled oats and blend)
2 tbsp of maple syrup
10 medjool dates (pitted)
3 tbsp of melted coconut oil
2 tsp of vanilla extract
1 tbsp of baking powder (make sure it's the powder and not soda!)
2 tbsp of cacao powder (5g)
Pinch of sea salt
At least 1/2 cup of chocolate chips/cacao nibs (feel free to add more) (cacao nibs have a stronger taste while chocolate chips are sweeter – choose what suits mum best)
Optional extras
Grated walnuts

More chocolate chips/cacao nibs (because why not?)
Method:
Preheat oven to 180°C
Mix the beans, oats, sugar, dates, baking powder, cacao powder and salt in a large bowl
Separately mix the coconut oil, vanilla extract and maple syrup
In a food processor, mix the contents of both bowls and blend until smooth
If the batter appears too thick and solid, add one or two tablespoons of water and blend again (blend until the consistency is slightly moveable when tilted but not runny)
Then add in the chocolate chips/cacao nibs and pulse a couple of times
Grease a baking tray and pour the mixture in, levelling it off with the back of a spoon or a spatula
Add more chocolate chips to the top and put it into the oven for about 15-20 minutes – until the top is dry and begins to crust
Remove and wait at least 20 minutes for it to cool before removing from the tray
Cut into squares and decorate with nuts, more chips or/and chocolate sauce and serve