Multiple Award Winner
Multiple award winner: As seen in Women's Health Magazine and winner of the "Beauty Shortlist Wellbeing Awards" and winner of the "Health, Beauty & Wellness Award"
Visible results after 4-12 weeks: Vegan Collagen Superfood evens skin texture, tightens, and smooths fine lines as well as boosting overall radiance. It also supports healthy nails, hair and joints
100% pure plants: One of the most pure options available on the market. 100% natural ingredients and no synthetic vitamins or sweeteners
Cruelty free: Unlike bovine or marine collagen, Vegan Collagen doesn't contain any ground up cow or fish bones. Our 100% plant based blend is proven to both build collagen and lessen wrinkle depth with anti-ageing antioxidants
Planet friendly: Recyclable and compostable packaging. 🌱 1 order = 1 tree 🌱 we'll plant a tree on your behalf which will absorb over 2 tonnes of CO2 in its lifetime.
How long does it take to get results?: You will first start to see results when your skin cycle renews which is typically around 28 days in your 20s, 60 days in your 40s and 90 days or more for over 50s. We recommend 3-6 months on consistent use for best results
How to get results quickly Like most things in life, consistency is your best friend for accelerating your results. Pick the same time each day for your daily dose and make it a routine! We also recommend avoiding sugar, alcoholic drinks, barbequed foods and excessive UV exposure - all of which damage collagen fibres in your skin
Vegan friendly: 100% vegan and cruelty-free ingredients
Ingredients: Organic camu camu powder, organic raspberry powder, pink dragon fruit powder, organic sunflower seed protein powder, organic strawberry powder, organic carrot powder, organic baobab powder, organic beetroot powder, organic inulin powder.

You'll never find any sweeteners, stevia, artificial flavours, fillers, preservatives or additives.

Only 14 calories per serve with 2.5g of carbs
Warning:
Manufactured in a facility that also processes nuts, sulphured fruits, soya, sesame, eggs, milk, mustard, celery, seeds, and wheat (including gluten)
Not recommended for pregnant or breastfeeding women due to naturally occurring vitamin A.
120g, 30 serves
Taste: Berries. Natural, mildly sweet taste
Description: We are proud to have one of the most natural products available on the market - our superfood powder is bright pink from pink dragonfruit powder and contains 100% natural supernutrients from real fruits and vegetables
Taste: Expect the delightful aroma of sweet berries and a slightly sweet/tart berry taste.
How to us: Sprinkle on cereals or yogurt, mix with baking or raw treats, add to smoothies or nut milk or drink straight up with water
Our subscription option offers the best value:
Cancel anytime: Cancel anytime by messaging us on facebook or instagram or sending us an email at hello@rawbeautylab.com
Get 25% off for life: Benefit by getting the best price, every time!
Letterbox delivery: Delivered via your letterbox so don't worry if you won't be in
OVER 900+ 5 STAR REVIEWS
See the Before and Afters
You can expect visible results after just 4 weeks… but like all things in life, good things come to those who stay committed. Best results after 3 - 6 months, depending on skin type and age.
Customer Reviews
Write a Review
Ask a Question
05/21/2022
Amazing product
The product itself is amazing, having tried nearly most beauty products out there as well as supplements, I was shocked to see a noticeable difference in my skin just 1 week after using the item. My skin actually looks better without make up than with makeup. Flawless complexion, plumped up skin and just all round healthier, happier, glowing skin
Anonymous

United Kingdom
06/01/2022
Raw Beauty Lab
03/11/2022
Vegan collagen
I can't say enough how amazing this product is! The amount of compliments I had in how amazing my skin looks is unbelievable! Would definitely recommend and tastes great!
Anonymous

United Kingdom
03/16/2022
Raw Beauty Lab
Thank you!! We are so glad that you love our product
09/01/2021
Delicious and revitalising
I'm only part way through month one of my first Vegan Collagen pouch but I have already noticed a difference in my energy levels. As a post menopausal woman (just about) I've been plagued with poor sleep, aching joints and no mojo. I am definitely sleeping better and have just completed a walking challenge for charity (something I wouldn't have believed I could do a couple of months ago). I will definitely be purchasing more. Thank you
Jayne H.

United Kingdom
09/07/2021
Raw Beauty Lab
Thank you so much for your kind words, Jayne! We really appreciate you taking the time out to share your experience with us!
08/31/2021
Love this stuff!
After taking a tablet vegan collagen for a while I came across this as a substitute. So glad I did. I have noticed a difference in my skin - much brighter. And also some change with the dark circles under my eyes. I'm just about to purchase my second month and I'm here to stay! Recommended :)
Anonymous

United Kingdom
09/07/2021
Raw Beauty Lab
And we are glad you love it, welcome to our family!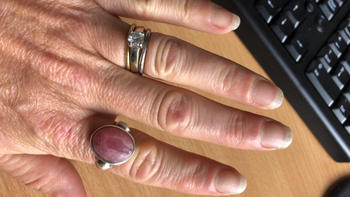 08/28/2021
Astounding ✨
Absolutely incredible that before I've even finished my first pouch of collagen I have nails, real, all mine STRONG nails. It's the first time in 9yrs that they've grown without breaking. I can't thank the team at raw beauty enough, so glad I found you!! Highly recommend this product ✨
GEMMA R.

United Kingdom
09/07/2021
Raw Beauty Lab
Such an amazing picture! Thank you so much for sharing your results with us lovely!!
08/26/2021
Thought it was worth a try, my goodness it was!!
Delivery was very quick, packaging is sustainable and well designed, the actual results were very good. Within a week I'd noticed my nails strengthened, within about 2 weeks I'd noticed the area of skin that flanked my nostrils had stopped crinkling. Also my skin on my hands looks improved. I've been taking it with oat milk in a smoothie. if you blend your drink it doesn't clump at all
Anonymous

United Kingdom
09/07/2021
Raw Beauty Lab
So glad to hear about all the results Susie!! Thank you so much!
08/25/2021
Amazing product!!
I am just coming to the end of my first pouch of vegan collagen and have just subscribed to receiving it monthly. I think the fact that subscribing gives a discount is such a good idea and I know that cancelling or skipping a month is simple to do. I have been really happy with the results I've had so far, I can see a difference in the skin on my face, it has definitely helped with fine lines around my eyes and "plumped" up the skin on my face as a whole. I have been so pleased with the results, the efficient service and the friendliness of the staff when I emailed a question about whether I could expect to see results in the skin on my arms and neck with continued use. Overall an amazing product, company and staff! Thank you so much
Anonymous

United Kingdom
09/07/2021
Raw Beauty Lab
Thank you Vikki for this lovely and kind review! It means so much!
08/20/2021
Feeling good and healthy
Love your product…also it tastes really good too and it is plant based as well which means it doesn't have a dreadful 'hoody' taste like the bovine collagen products do. Mixes well with yogurt or fruit juice and it's a pleasure to imbibe.
Lynne C.

United Kingdom
09/07/2021
Raw Beauty Lab
So glad you love the taste Lynne! Thank you so much!
08/09/2021
Better than the marine collagen I used to take
Raw Beauty's plant-based collagen tastes better and gives better results than the marine collagen I used to take. I mix it with a small glass of orange juice every morning and I feel great.
Anonymous

United Kingdom
08/10/2021
Raw Beauty Lab
We're so happy you love your Vegan Collagen! Thank you so much!
07/21/2021
Zena
A really good friend recommended this so of course I had to have a try.. OMG after one week I noticed a difference especially around the deep lines (nose to chin).. I looked like I'd had fillers (well I thought so!!).. I have recommended this to my other friends and only this morning I had a text from one saying she woke this morning and could see the difference 9 days in! I'm just hoping this effect continues..
Anonymous

United Kingdom
07/22/2021
Raw Beauty Lab
Thank you so much for the lovely feedback!
"They say you are what you eat...but wow!!!"
UK'S #1 VEGAN COLLAGEN AS SEEN IN
Benefits of Collagen for Youthful Skin
Collagen is what keeps your skin looking young
Collagen makes up 75% of your skin and it's the stuff that keeps it wrinkle-free, smooth and elastic. However as you get older, you lose about 1.5% of your collagen each year and your body gets less effective at producing more.
The older you are, the more collagen you lose
The reason you look older as time passes is primarily due to collagen loss. The more collagen you lose, the deeper your wrinkles and the more sagging you'll see in your skin - and this can also result in thinning hair, brittle nails and joint issues.
Your diet can help boost collagen
If you want to look younger for longer and boost the collagen in your skin, you need to be consuming collagen-boosting foods and nutrients in your diet. These essentially help to boost collagen levels and have been proven to help smooth, tighten and plump skin as well as strengthen nails, and support hair and joints.
How We're Different From Other Brands
Raw Beauty Lab
WHAT WE USE
 100% wholefoods
 Food-sourced vitamins
 Cruelty-free, vegan ingredients
 Made in London
Other brands
WHAT WE NEVER USE
 Synthetic vitamins e.g. Ascorbic acid
 Artificial colours
 Artificial or natural sweeteners
 Animal ingredients
HERO INGREDIENTS
Pure, Clean, Natural Ingredients
CAMU CAMU
Peruvian superfood high in vitamin C to support natural collagen production
PINK PITAYA
Tropical fruit, rich in amino acids and vitamins A & C to promote plump, glowy skin
SUNFLOWER SEEDS
High in vitamin E and selenium to lessen fine lines and keep skin moisturised.
BAOBAB
African superfood packed with amino acids and vitamins to boost collagen
Backed by 30 years+ of scientific research
Developed by Oxford University Graduates, harnessing over 100 years of nutricosmetic research
Helps boost collagen levels
Studies show that people may get increased collagen levels from eating vegetables
Number of studies 6
Years of studies 1999-2006
Double-blind Yes
Helps boost collagen levels
Studies show that people may get increased collagen levels from eating vegetables
Number of studies 6
Years of studies 1999-2006
Double-blind Yes
Helps boost collagen levels
Studies show that people may get increased collagen levels from eating vegetables
Number of studies 6
Years of studies 1999-2006
Double-blind Yes