Whoever told you vegans or vegetarians don't get enough protein in their diet, really hasn't realised the growing number of vegan -powered athletes. These muscle-toned amazons get their protein fix with a number of cruelty free recipes that are filled with protein and nutrients to help nourish their bodies after a workout!
Protein is essential for everyone, whether you've made the gym your second home or not. Not to mention its one piece of a diet that should be balanced with all the other macronutrients important for your wellbeing.
Dieticians and nutrition specialists have actually shown that plant-based protein is actually better than meat alternatives because their nutrient profile includes a bunch of other essential vitamins, minerals and fibre that can help improve your overall well being.
I should also note at this point, that combining different sources of proteins is important when following a vegetarian or vegan diet, to ensure your body is getting a complete protein (which is a protein that consists of all 9 essential amino acids) – of course, the recipe below gives you exactly that!
Helps to Build Lean Muscle Mass
Lean muscle mass is also another important consequence of a high protein diet, and is increasingly important as you age. As you age you lose muscle mass at a greater rate and therefore ensuring you're supplementing your diet with good quality protein is important to keep your muscles operating at health. Not only will this preserve your strength and mobility to prevent chronic diseases, it will help support healthy metabolic function and maintain a healthy form so you stand taller and with a more grounded posture.
So, whether you choose to eat plant based or not, check out the following recipe to pack a generous protein punch in your diet!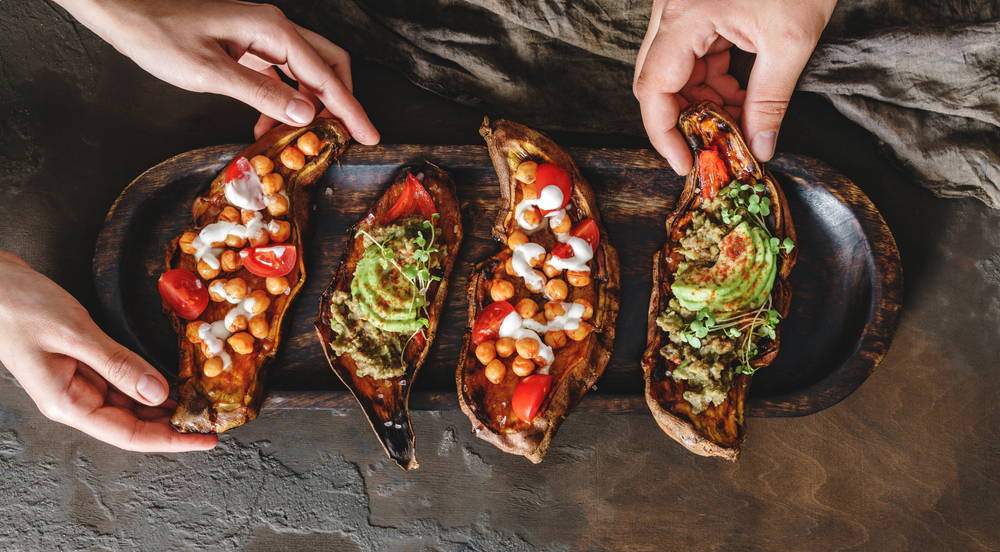 High protein anti-aging Machos (Vegan and Gluten-Free)
Ingredients
2 medium sweet potatoes, thinly sliced
1 can of chickpeas, drained
1 can of diced tomatoes
1/4 cup greek yogurt
1 tablespoon olive oil
1 teaspoon garlic powder
1/4 teaspoon of turmeric
1 avocado
1/2 lime
1 white onion (diced)
1 tablespoon very finely diced red onion
1/2 tablespoon matcha
Vegan cheese
Pinch of salt & pepper
Coriander to taste
Method
For the Matchos
Preheat the oven to 180 degrees.
Thinly slice the sweet potato and place on a baking tray. Drizzle with olive oil and sprinkle with garlic powder and salt. Bake for 20 minutes or until roasted
Drain and rinse the chick peas and add to a pan on low heat.
Add in turmeric and black pepper and cook until the chickpeas are soft and warmed.
In a separate pan, add the olive oil and the diced onion and gentle fry for 10 minutes until the onions are golden.
Add the tomatoes to the onions and stir over medium heat until they're well combined.
Arrange the cooked sweet potato chips as a flat layer on a baking tray. Top with the tomato mixture, followed by chickpea mixture and then sprinkle on some vegan cheese.
Bake at 180 degrees for 12 minutes or until cheese is melted.
For the Guacamole
Mash the avocado and mix with half a lime, matcha, finely diced red onion and finely chopped coriander. Add salt to taste.
Top the nachos with the guacamole and a dollop of greek yogurt.
And that's all there is to it. You can add the matchos as a side dish to black bean soup or our delicious pea patties (recipe here). Or have your very own fiesta and pair them with homemade vegan quesadillas. These are just a few of the endless possibilities where you can incorporate these matchos into your diet. Be sure to share some of your recreations with us through our socials @rawbeautylab.