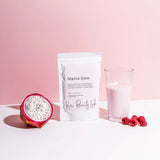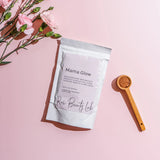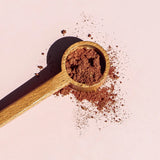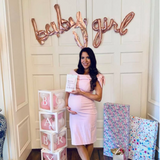 Adapted from our award-winning Vegan Collagen formula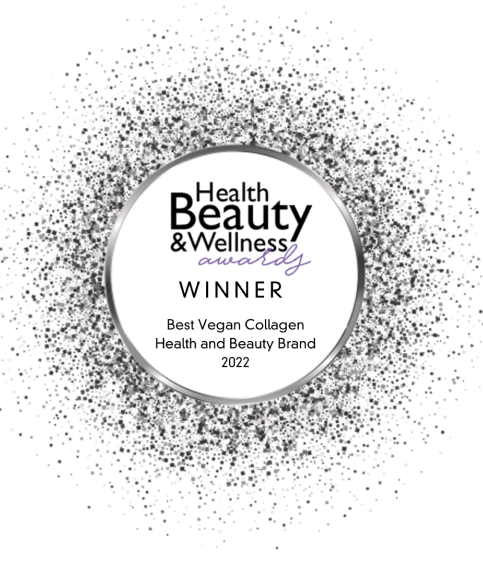 Award winning formula: Based on our award-winning Vegan Collagen recipe with over 900 5 star reviews
100% organic ingredients:No synthetic vitamins, sweeteners, animal ingredients, stevia or fillers.
Our pregnancy safe collagen contains organic pomegranate juice extract which has been shown to significantly increase skin moisture, collagen type 1 and boost natural hyaluronic acid production for plumper skin (1)
Nutrients proven by the EU's Health and Nutritional Claims Register to support collagen production naturally - no animal products required (2) making vegan collagen safe in pregnancy
Planet friendly: Recyclable and compostable packaging. 🌱 1 order = 1 tree 🌱 we'll plant a tree on your behalf which will absorb over 2 tonnes of CO2 in its lifetime.
Animal collagen products are not recommended during pregnancy or breastfeeding because they can be dangerous to a new baby.

Marine collagen can contain traces of heavy metals and you should only have two portions of fish per week - we recommend you consume oily fish rather than a marine collagen supplement. Bovine collagen can have traces of pesticides or other farm contaminants and is not recommended.

Our proprietary Mama Glow blend has been designed with collagen safety in pregnancy in mind. We only use 100% organic wholefoods collagen supplement pregnancy safe and have proven collagen building benefits.
Vegan friendly: 100% vegan and cruelty-free ingredients
Ingredients: Organic strawberry powder, organic raspberry powder, organic date powder, organic pomegranate powder, organic coconut milk powder, organic carrot powder, organic sunflower seed powder.
Build collagen: Helps to build collagen during pregnancy naturally by providing your body with essential wholefood-sourced building blocks
Protect collagen: Our blend of plant-based antioxidants does what animal collagen products can't - it actively helps to protect collagen and elastin fibres, keeping your skin looking younger for longer and keeping premature ageing at bay making mama glow collagen good for pregnancy
Smooth fine lines: Our superfood blend goes beyond traditional collagen supplements, to harness 5 anti-ageing phytonutrients from plants, proven to help smooth fine lines and tighten skin with collagen after pregnancy.
Skin, hair, nails & joints: Powerful antioxidants from wholefoods help to support healthy skin, hair, nails and joints.
Wellness: Unlike other brands, we don't take synthetic shortcuts making our collagen supplement pregnancy safe. We only use wholefood vitamins and nutrients sourced directly from the wholefood matrix to make our collagen supplement pregnancy friendly.

Yes, its more expensive for us but we think your results are worth it and its kinder on your stomach and on the planet.

Most beauty supplements use synthetic vitamin C (ascorbic acid), its cheaper and easier than using real plants but involves highly industrialised processes in factory settings. Instead we use plant-based vitamin C, sourced directly from wholefoods, which has been shown to be 1210% more effective than synthetic alternatives* making vegan collagen good for pregnancy to get you effective results .

Each serve contains over 50% of your daily vitamin C requirement directly from superfoods, botanicals and whole plants. See and feel the difference.

* Anitra C. Carr and Margreet C. M. Vissers, 2013. Centre for Free Radical Research, University of Otago, Christchurch, New Zealand
How to us: Sprinkle on cereals or yogurt, add to smoothies or nut milk or drink straight up with water
Stay consistent: For best results, pick a specific time each day to take our collagen building beauty superfood and see and feel the difference.
Our subscription option offers the best value:
Cancel anytime: Cancel anytime by messaging us on facebook or instagram or sending us an email at hello@rawbeautylab.com
Get 20% off for life: Benefit by getting the best price, every time!
Letterbox delivery: Delivered via your letterbox so don't worry if you won't be in
Mama Glow - Collagen boost for pregnancy and breastfeeding
Customer Reviews
Write a Review
Ask a Question
05/19/2022
Love this collagen!
I really love this collagen, super easy to add into a smoothie and it's the only supplement I've ever taken where I've really noticed a difference. My hair feels thicker and my nails look shinier and are soo much stronger. I have eczema pretty much all over and I love taking a supplement that seems to help from inside out! Would definitely recommend.
Elena R.

United Kingdom
06/01/2022
Raw Beauty Lab
Thank you Elena so much!!
05/07/2022
Mama glow
Tried the mama glow collagen and I believe I've noticed some changes in my hair growth. I decided to then start a subscription and I have been using it for at least 5 months. The downside to it is the taste... not for my liking.. also it doesn't dissolve properly leaving bits in the drink.
Anonymous

United Kingdom
05/17/2022
Raw Beauty Lab
Thank you for your feedback lovely, we will keep this on our minds! ❤️
04/25/2022
Fab Product!!
Really loving this product!! Definitely noticing a difference, it's my 3rd month now. Noticed my skin seems brighter, nails growing/stronger and hair in a really healthy condition. Now on a monthly subscription! Couldn't recommend enough.
Vicky N.

United Kingdom
05/05/2022
Raw Beauty Lab
Thank you Vicky so much!!
HERO INGREDIENTS
Pure, Clean, Natural Ingredients
STRAWBERRIES
Strawberries also contain more vitamin C than oranges as well as ellagic acid which helps protect existing collagen from free radical damage and degradation

POMEGRANATE
Pomegranate contains more powerful antioxidants than green tea and has been shown to significantly reduce wrinkles caused by photaging whilst increasing skin hydration as well as collagen and hyaluronic acid synthesis to keep skin firm and plump.

SUNFLOWER SEEDS
High in vitamin E and selenium to lessen fine lines and keep skin moisturised.

RASPBERRIES
Raspberries are packed with powerful antioxidants and polyphenols which help to protect skin and joints from free radical damage as well as boosting overall skin radiance and glow.
collagen during pregnancy
How We're Different From Other Brands
Raw Beauty Lab
WHAT WE USE
 100% wholefood vitamins
 Food-sourced vitamins
 Cruelty-free, vegan ingredients
 Made in London

Other brands
WHAT WE NEVER USE
 Synthetic vitamins e.g. Ascorbic acid
 Artificial colours
 Artificial or natural sweeteners
 Animal ingredients
For Mamas to Be
You shouldn't have to say goodbye to your beauty regime when you're pregnant or nursing. Our vegan collagen supplement uses clean, organic ingredients making Mama Glow Collagen pregnancy friendly for Mamas and helps keep skin glowing from the inside-out.