Antioxidants are essential for anyone looking to turn back time on the condition of their skin. Antioxidants are mother nature's remedy to the environmental stressors we face every day – UV exposure, pollutants, diets high in refined sugar and unhealthy fats (triple glazed chocolate doughnuts – I'm looking at you).
At Raw Beauty Lab, we are huge fans of an antioxidant packed smoothie, but there's no harm in trying to incorporate more of these collagen protecting gems into our diet – it's not like we could ever have too many antioxidants, right? - even if we did, we can easily compensate by devouring a full tray of black bean brownies in one sitting so we're good on the antioxidant front!

The best part about anti-aging superfoods is their versatility – they can be incorporated into literally any dish – soups, salads, main dishes, desserts. Not only will this challenge your creativity in the kitchen, you'll unlock a huge repertoire of dishes you can use to keep you're tummy, mind and skin happy!
In light of your new found enthusiasm about antioxidant rich recipes, here is a super easy, vegan and gluten free, 20-minute dish you can make yourself for a quick lunch or as a side with a hearty bowl of soup for dinner!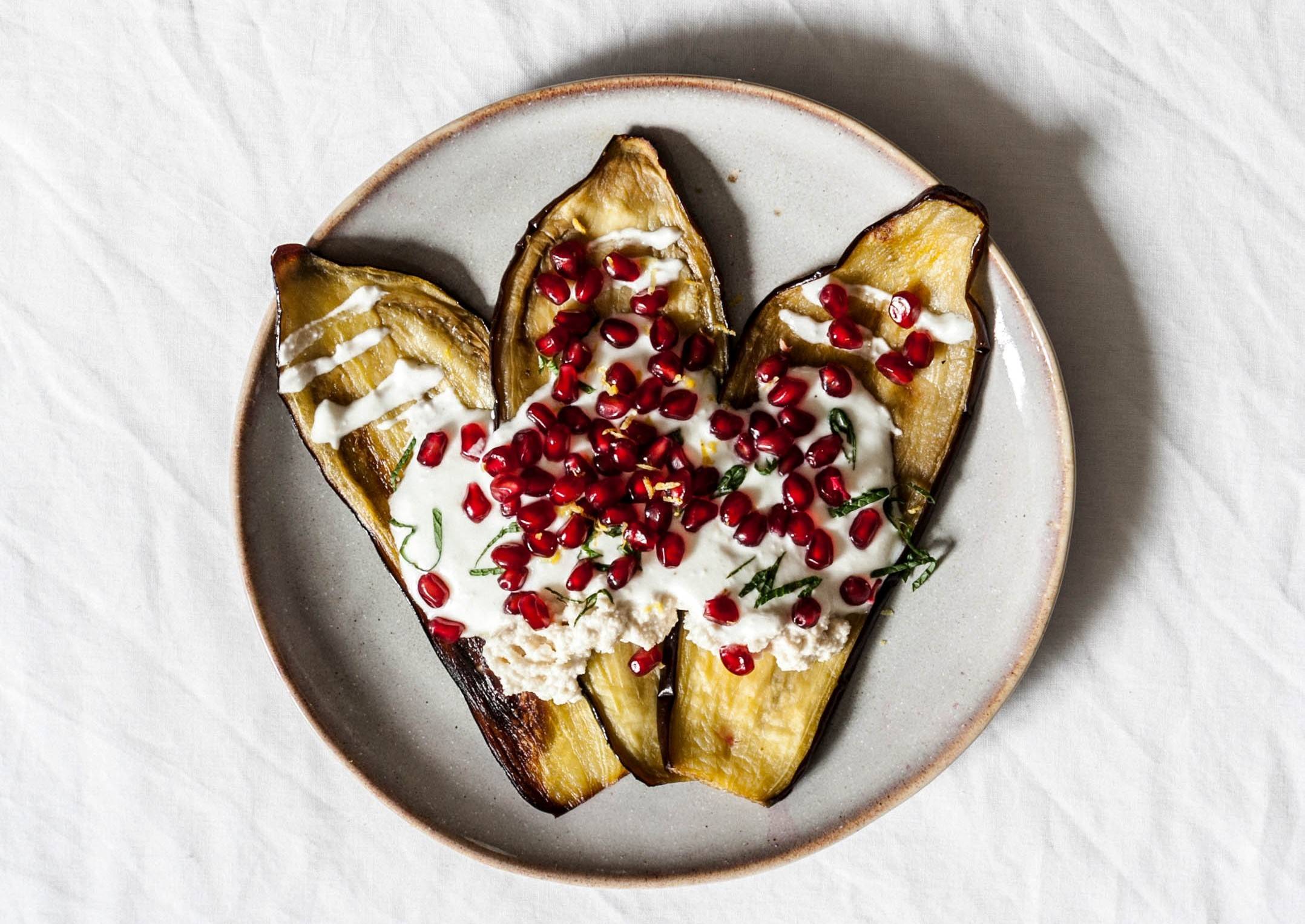 Ingredients
2 eggplants
1/2 cup pomegranate seeds
1/4 fresh mint
1/4 cup tahini
1/2 tablespoon maple syrup
1 tablespoon of olive oil
Method
Preheat the oven to 180 degrees.
Finely slice two eggplants lengthwise and place on a baking tray lined with baking paper. Add a drizzle of olive oil and bake for 20 minutes or until the eggplants begin to tender.
Mix the tahini and maple syrup together until they form a dressing and keep to the side
When the eggplants are ready, remove them from the oven and drizzle with the tahini dressing
Top with mint and pomegranate seeds
Et voila, your 20-minute dish is ready to eat! The ease of this dish means that you could very easily make varying renditions of it. For example, you could coat the aubergine with breadcrumbs or roasting sesame seeds to give your aubergine fillet a crispier bite. Or swap out the tahini for organic miso paste and serve with a size of quinoa for a more filling dinner!