Do you skip breakfast in the morning? Are you aware that you're missing out on a huge opportunity to boost your skin's health with food's high in collagen building nutrients? We all appreciate a natural glow to the skin but too often are hoping to get it at the bottom of a serum instead of in the shelves of our fridge!
Your complexion is a reflection of what you eat. Starting the day with a breakfast full of the best collagen producing, skin loving phytonutrients can allow your skin to stay hydrated, protected and glowing all day!
While all these benefits sound like a no-brainer for anyone who wants beautiful skin (I mean who doesn't), time is not a luxury many people (me included) can afford in the morning. But what if I told you there was an easy, super nutritious, and incredibly tasty way to enjoy breakfast which took zero minutes, (yeah you read that correctly), to prepare in the morning? This is where the magic of meal prep and overnight morning oats comes in.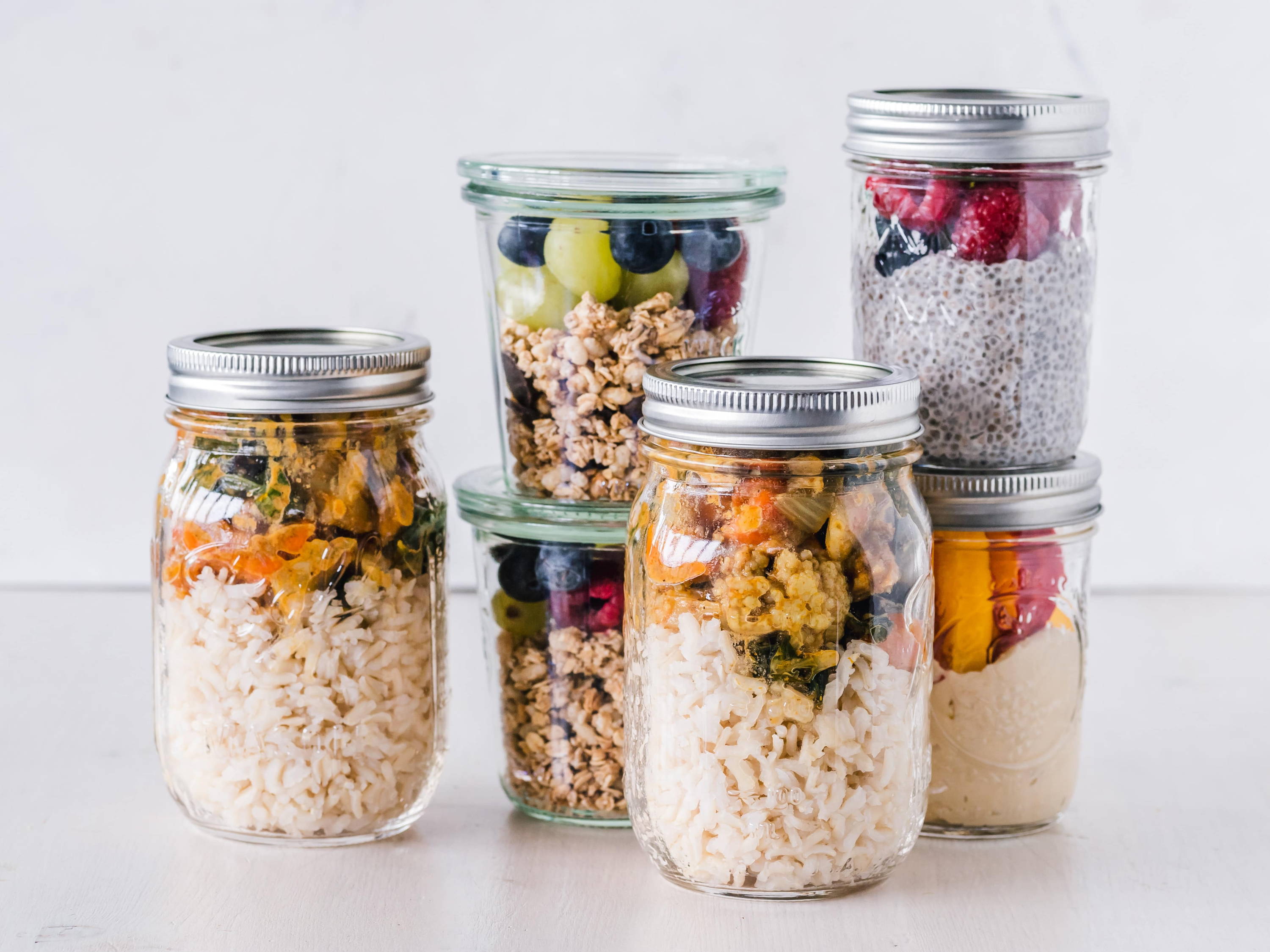 Basic Healthy Overnight Oats
A basic overnight oats recipe requires only 3 main ingredients: oats, some nut or soy milk and a teaspoon of cinnamon (this is a vegan recipe but feel free to add normal milk too). Add 1 cup of oats, 2 cups of milk and the cinnamon to a mason jar or Tupperware and store overnight in the fridge ready to eat the next day.
These simple basic overnight oats provide all the skin loving nutrients oats have to offer. They are rich in collagen protecting antioxidants such as avenanthramides, provide a generous dose of collagen building zinc and are great source of beta glucan – a powerful fibre that can help keep your gut healthy and chugging.
However, I like to be a bit more adventurous with my overnight oats and have a number of additions and toppings. Not only will this make your overnight oats taste better, they'll also give your skin and body a generous dose of collagen building nutrients and minerals to help you start your morning right. The best part about overnight oats are that they are totally customisable and you can mix and match them to your taste to make yourself a breakfast worth waking up for!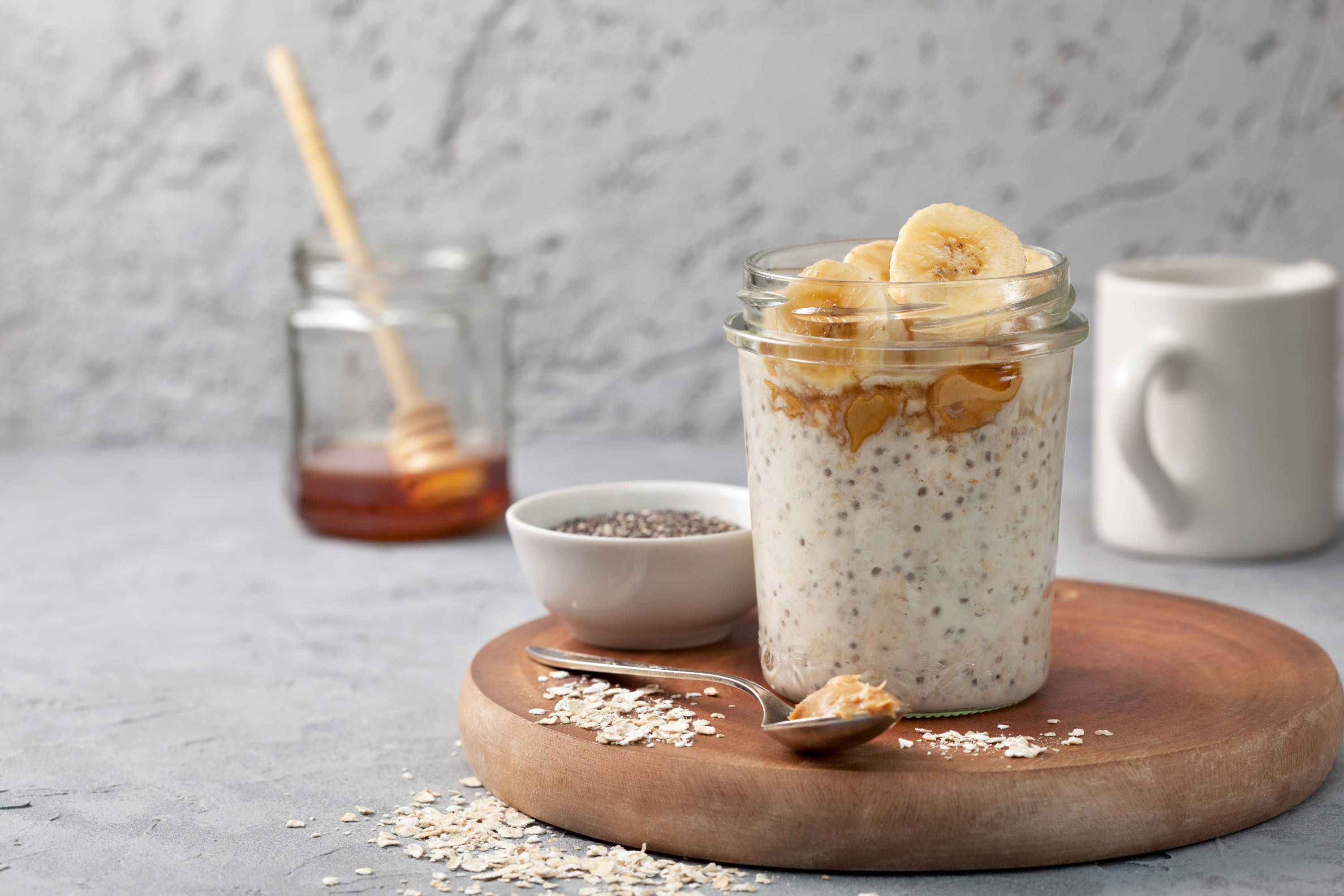 Overnight Oats with Protein
In true pic'N'mix style, I'll start with additions to your base. While oats and milk make a great base, you can give your skin and energy a huge boost by adding a handful of chia seeds to make protein overnight oats. Chia seeds are an incredibly rich source of protein, fibre and antioxidants and the best part, is that all this goodness is packed into a handful of calories that are very low in carbs and high in protein.
So if you're watching your weight, these are the perfect addition to keep you fuller for longer. Additionally, chia seeds hold a lot more water so will they help loosen the texture of your oats making them runnier.
Chia seeds are also a great source of omega-3 fatty acids. They can help improve overall energy levels and help build up your skin's protective outer layer, preventing water loss that can help you build up collagen in your skin.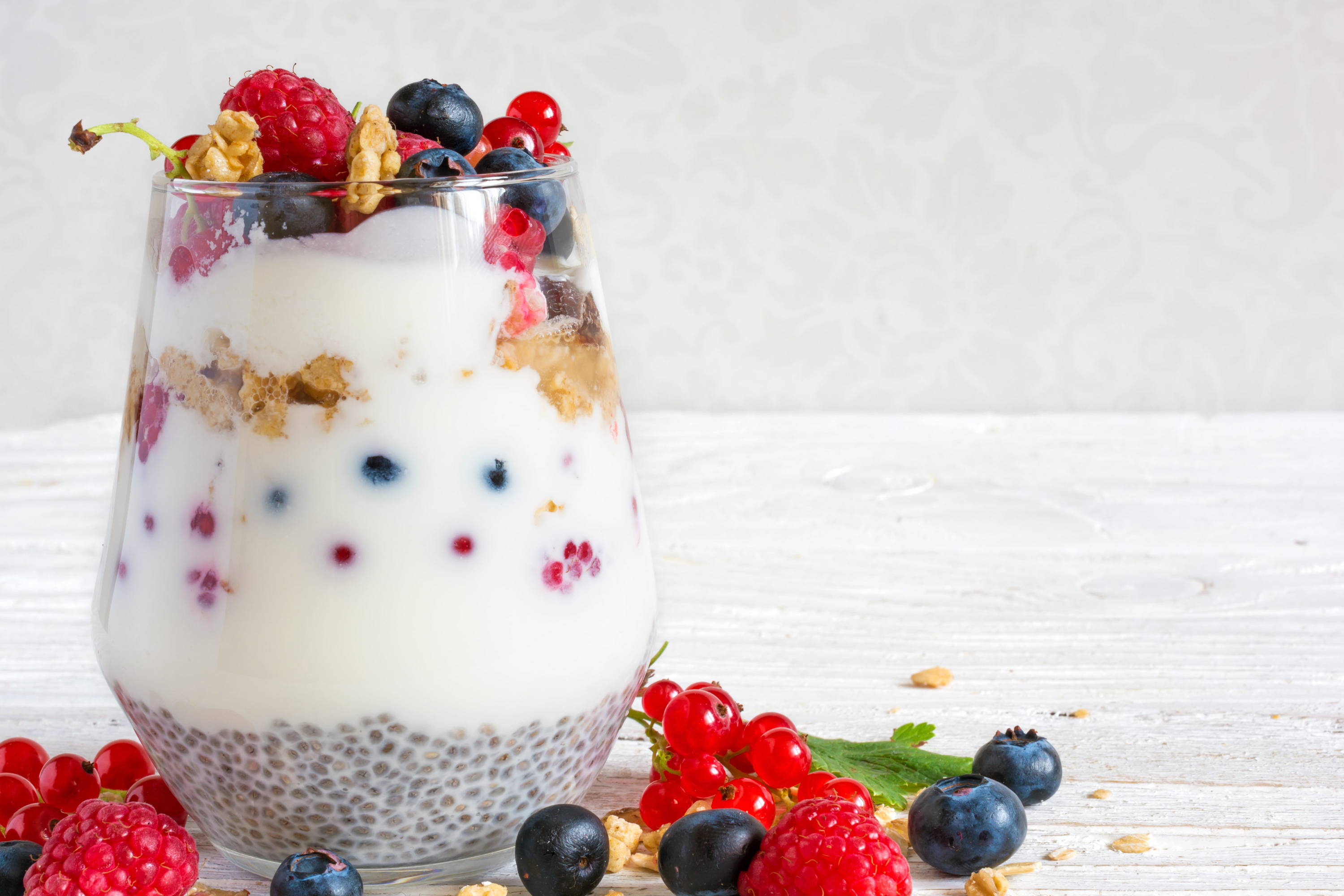 Overnight Oats with Yoghurt
If you're not a fan of milk or you'd like a more decadent start to your day, add one-two spoons of a plant-based yoghurt to your oats! Yoghurts provide you with a healthy dose of probiotics and gut friendly bacteria that can help keep your gut clean. This allows your gut lining to absorb nutrients from foods like oats and chia seeds as well as any supplements (like our vegan collagen powder) you may be taking, much more efficiently.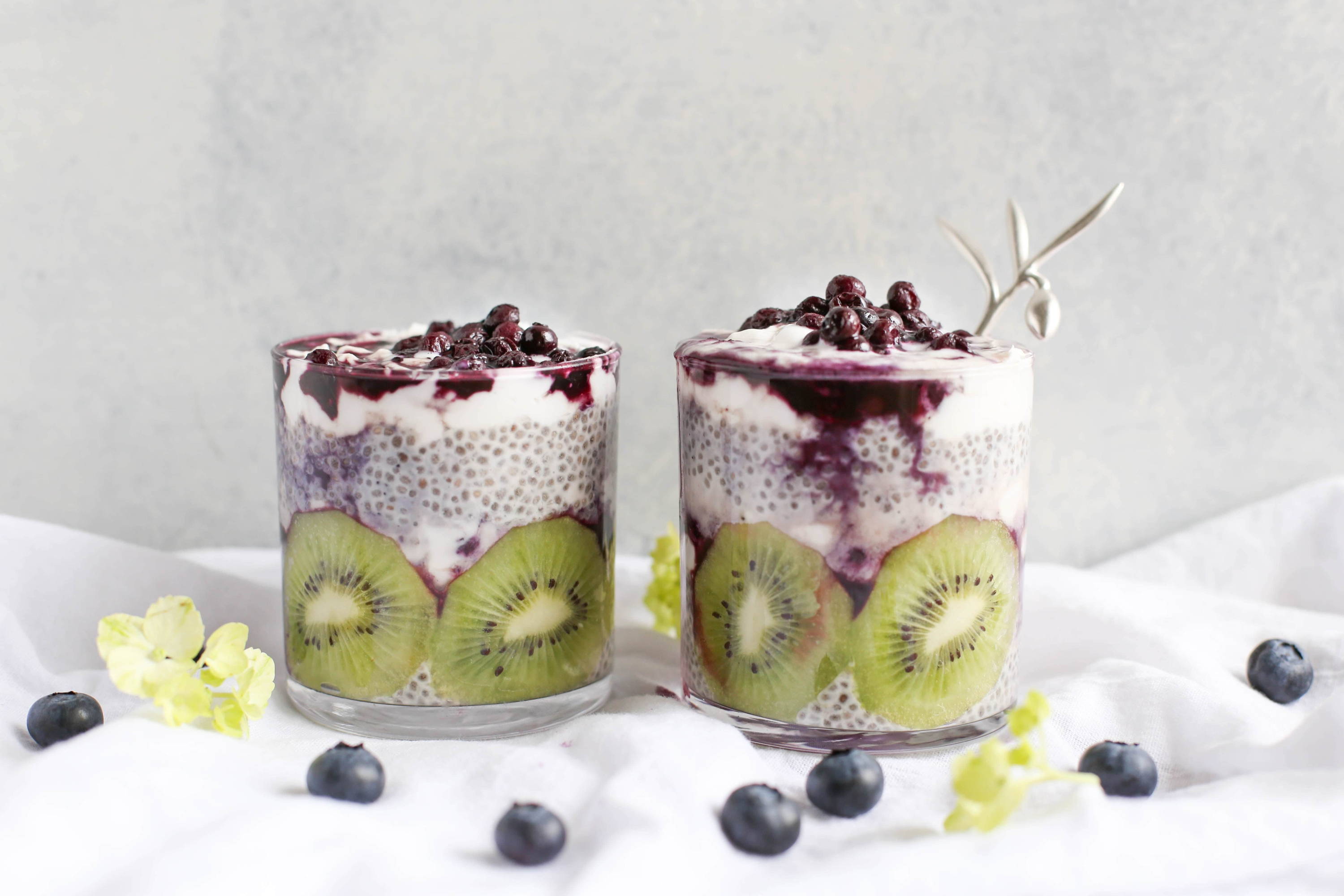 Overnight Oats with Fruits and Berries
The easiest, most aesthetic (and in my opinion), super fun way to improve the taste, texture and skin nourishing content of your overnight oats is by adding a handful of fresh fruit! You can really go to town with the fruits you add to your oats.
My personal faves are a handful of berries or kiwi slices – both excellent sources of vitamin c, the precursor for collagen production, bananas, apples and even mangos! Pro tip: buy your fruits frozen instead of fresh if you're going to be eating them throughout the week. It will keep them from going off (I mean who here likes furry strawberries?), and save you time having to chop them up while preparing your overnight oats. Another option is to add dried fruits to your oats too!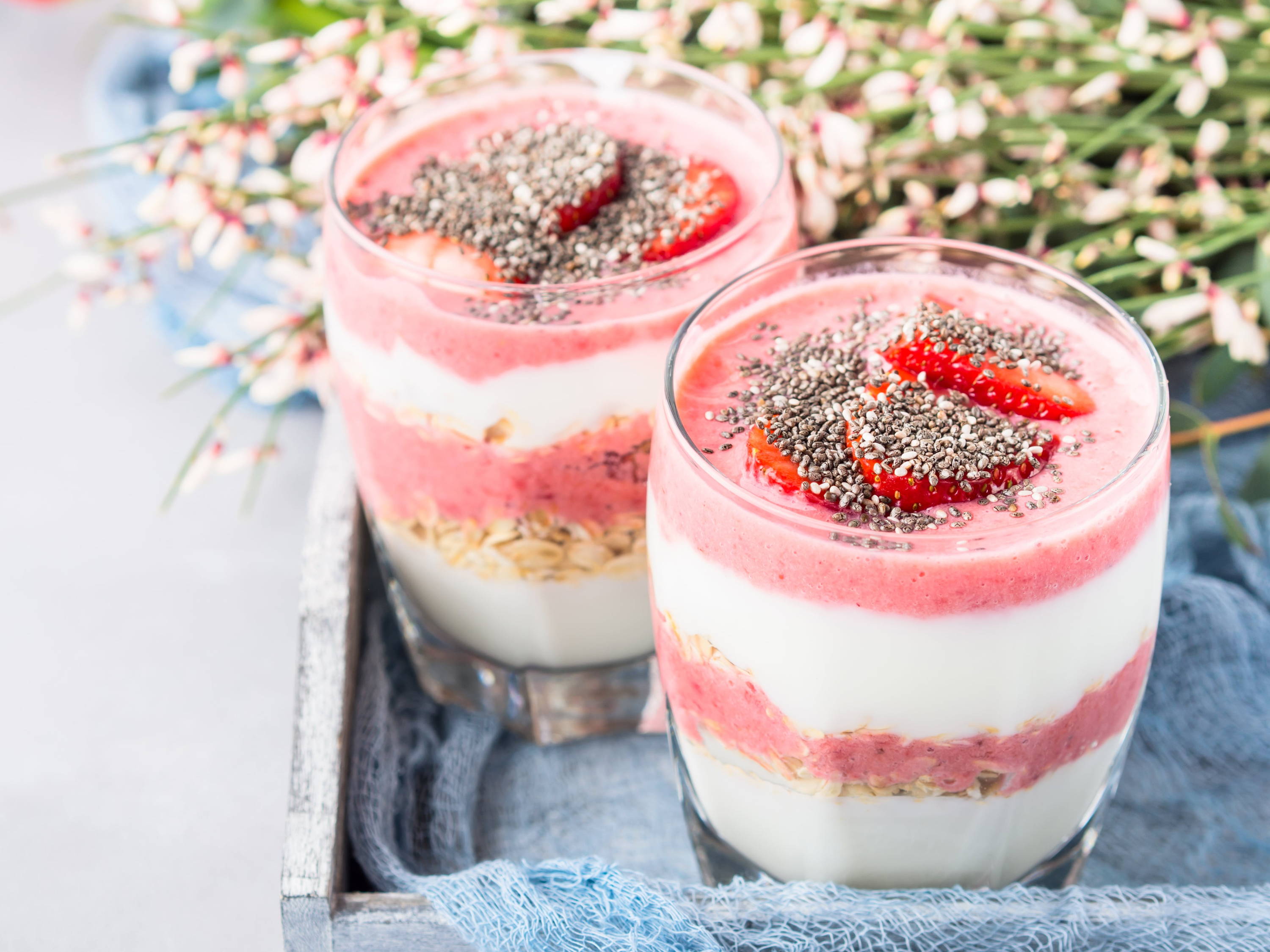 Mix in a Scoop of Vegan Collagen Powder
Mornings are a great time to take any supplements, not because they'll be absorbed better, but because you're less likely to forget to take them in the morning. Unlike other supplements, vegan collagen is powdered, so you can mix it in directly with your oats the night before when you prepare them.
A single scoop of vegan collagen powder provides you with 9 different superfoods that work together in the deeper, dermal layers of your skin. They help increase collagen production while protecting your collagen from free radicals through a plethora of plant-based phytonutrients. I mean there's a reason why we won the beauty shortlist wellbeing awards 2021.
But self-praise aside, this pure vegan supplement can provide numerous health benefits first thing in the morning. Give your morning oats a collagen building boost so your skin stays nourished and protected all day long from within!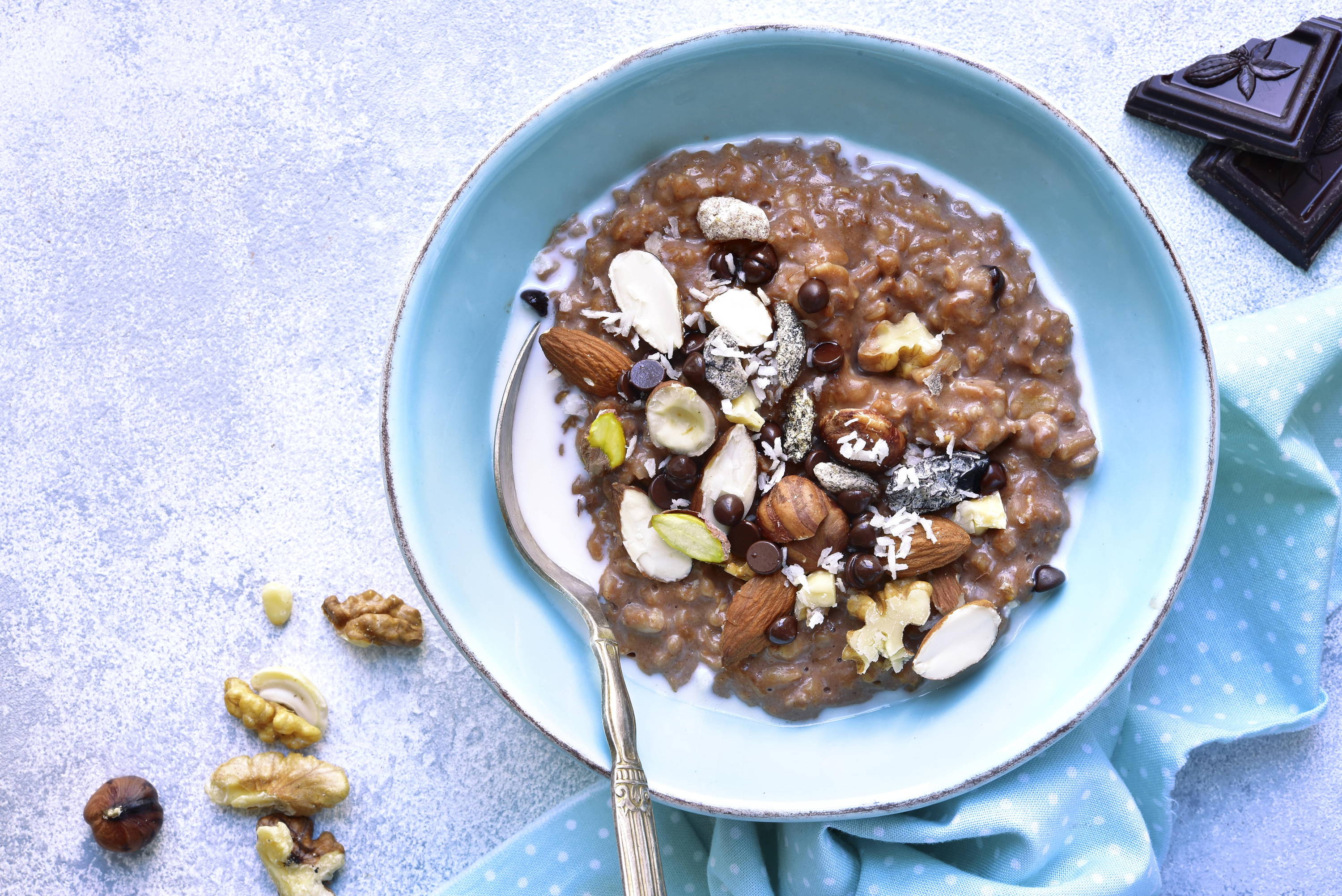 If you're a dessert lover, this option is totally up your alley! Satisfying my sweet tooth first thing in the morning without jeopardising the health of my skin seemed like a nearly impossible task until I discovered the magic of cacao. Known by nutritionists as chocolate's healthier cousin, cacao powder can make you believe you're having a chocolately treat without compromising the taste.
Cacao powder is unrefined cocoa powder, the base of any chocolate product. It still has the essence of making you think you're eating chocolate but with a stronger, sharper taste. Best of all it's a great source of flavonoid antioxidants that can help to nourish your skin, neutralise free radicals and help you protect and build collagen.
If you're a coffee lover, this chocolate hack is definitely something you want to try! Tip: if you can't handle the rich taste of cacao, add a squeeze of honey (also a great source of antioxidants) or maple syrup, to sweeten your overnight oats up!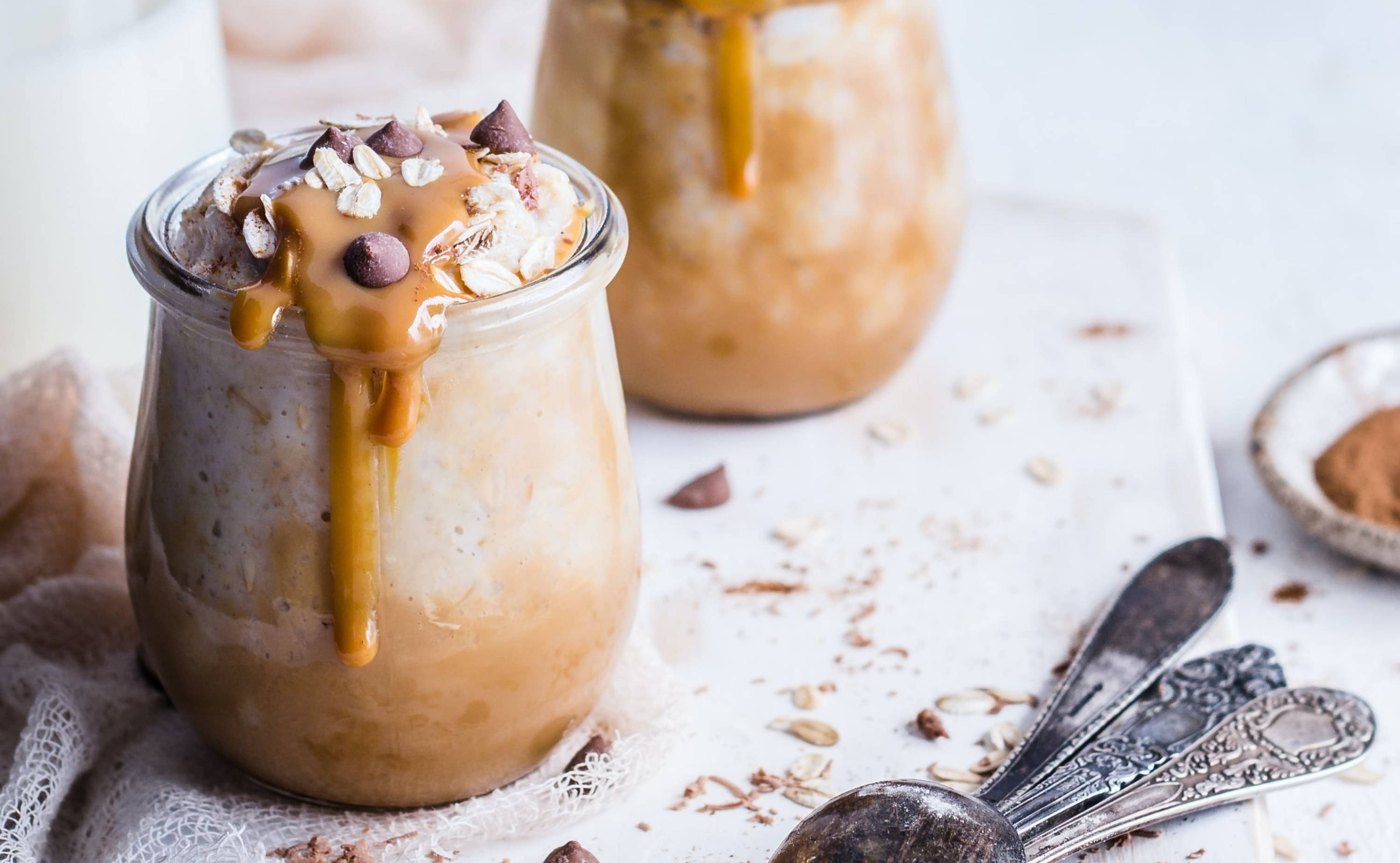 Peanut Butter Overnight Oats
Want a richer texture to your morning oats? Try adding a spoon of crunchy peanut butter to your overnight oats as a topping alongside your favourite fruit. Peanut butter is a great source of oleic acid that can help combat inflammation through your body and skin and is rich in antioxidants such as resveratrol, isoflavones and phytic acid. These nutrients can arm your skin to help protect it against daily stressors such as UV induced free radicals and prevent it harming your skin!
There are a number of great nut and seed butters that you can experiment with until you have found your perfect overnight oats flavour combination. Sunflower seed butter for example is a great source of collagen building nutrients such as copper and zinc and works great alongside the sunflower seed protein powder found in our vegan collagen.
The list for overnight oats toppings is endless – honestly there are thousands of different toppings and spices you could add to a version of a healthy breakfast! Be sure to peruse through our Instagram page for inspiration on how to make your breakfast bowl a little more exotic (we are morning people if you couldn't already tell).
A healthy breakfast filled with foods high in collagen building nutrients could not be any easier. I mean who knew ready meals could actually be healthy! If you're not a fan of cold oats in the morning, simply pop your jar or bowl in the microwave for 30 seconds for a toastier breakfast.
Be sure to share your favourite toppings for overnight oats in the comments below or on our socials! We would love to know!
In the meantime, I am sharing my favourite simple overnight oats recipe with a scoop of vegan collagen powder (totally optional but highly recommended) below. You can enjoy it for a sit-down breakfast or even on the go (it's totally portable), and give your skin every reason to glow, no matter how early you start your mornings!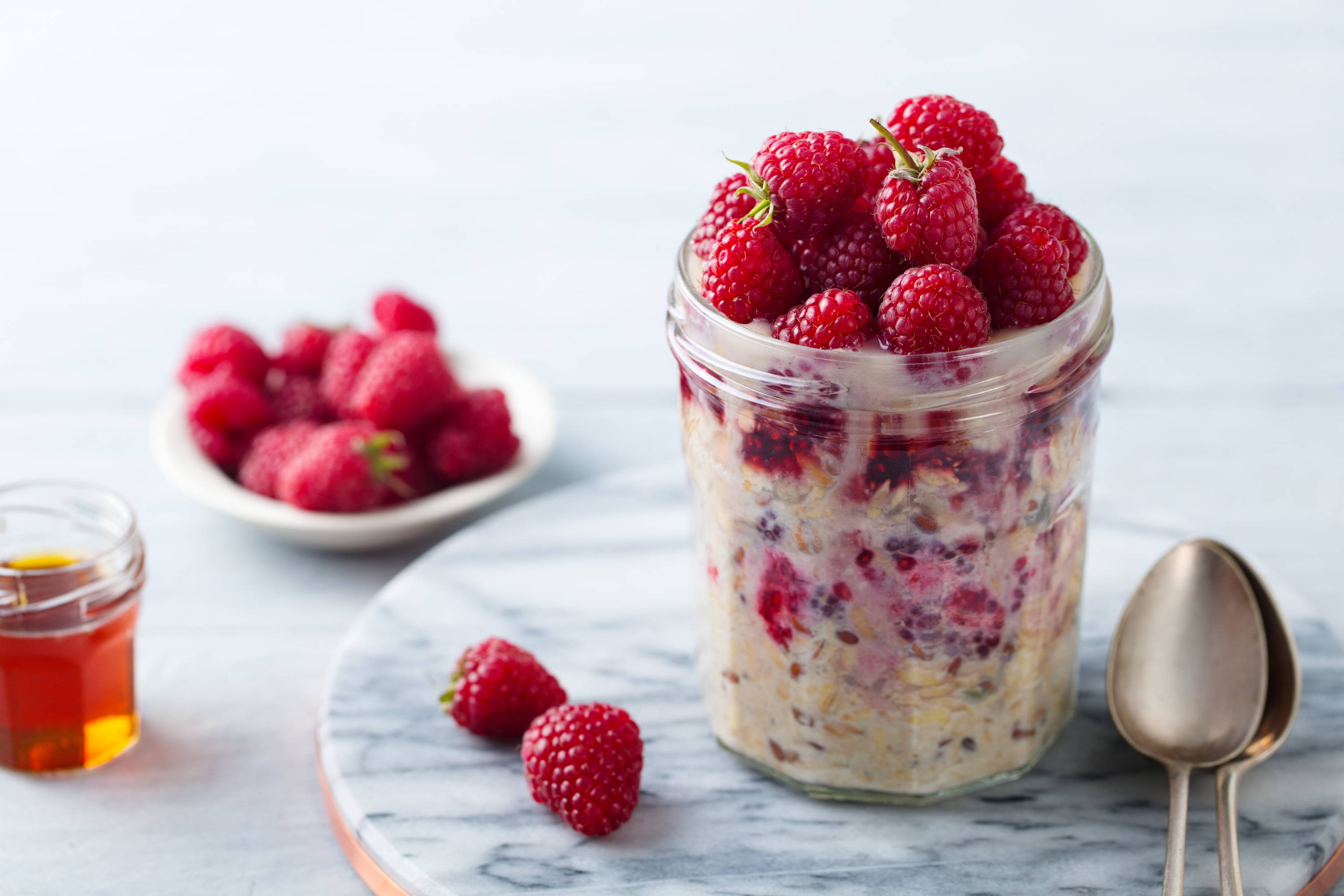 Collagen Building Vegan Simple Overnight Oats
1/2 cup rolled oats

1/2 cup almond milk or water
1/2 tablespoon chia seeds
1/2 tablespoon Vegan Collagen
1 tablespoon maple syrup
1/2 teaspoon vanilla extract
1/2 teaspoon cinnamon
1/2 cup chopped strawberries or raspberries
Mix ingredients together and pour into a mason jar or bowl.

Set in the fridge for a couple of hours (ideally overnight).
Enjoy a ready to eat healthy breakfast the next morning!